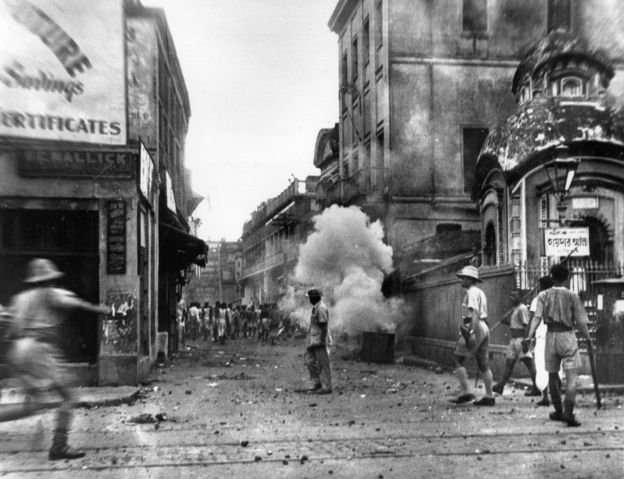 The story of 1947 during the independence of India is well known to everyone. The stories behind the rational scenes are also well known and updated by many facts and activities but till date, even after 70 years of independence a question is always making us sad- was it really required to divide India into two regions, and divide Indians into two religions.  All Indians were trying to fight against English people, not against Muslims or against Hindus in our own country. This small theme was understood by everyone except few big political fishes. Just to secure their own position they sowed seeds of poison, which is still affecting all Indians, sorry it will be wrong if I say 'Indians'. It has been affected all Indians but still endorsing all Indians and Pakistanis.
But till date, no one has spoken the truth and blamed the wrong thing boldly in parliament except PM Narendra Modi. This is a First time in India since its independence; in a Parliament that PM had delivered a bold speech and blamed against Jawaharlal Nehru about the Jammu and Kashmir issue. Narendra Modi is actually correct in blaming Mr. Nehru for the entire Kashmir mess. Prime Minister Modi's antipathy for Pandit Nehru is well known and his admiration for Vallabhbhai Patel is also well known. But antipathy and admiration are not dependent on person or personality, it is totally dependent on the facts. And in this case, the disrespects to Pandit Nehru are actually based on the past facts.
Recently PM Narendra Modi spoke boldly some actual facts about Pandit Jawaharlal Nehru in Lok Sabha.  The first and most important point has he accused the Indian national Congress of dividing our nation in the year 1947. According to him "Even after seventy years of independence, around 125 crore Indians are still facing the consequences of some bad activities done by Indian National Congress". We are facing the consequences of the seeds of poison that they showed then.  But PM didn't elaborate what was the poison as it is already known. Modi's second point of discussion in the Lok Sabha was- the contribution of the Sangh Parivar's Partition-era icon. According to him "all of Kashmir really would have been India's part, if Sardar Vallabhbhai Patel had been allowed to become India's first Prime Minister instead of Pandit Nehru.
The context in which the facts came was he was actually blaming the National Congress for the complex manner in which they divided Andhra Pradesh and extracted a new state, Telangana in 2014. Those who have listened and observed to Narendra Modi's speech, he would have found the reference to the partition of the nation rather bizarre. Actually, Narendra Modi wanted to send a conciliatory signal to AP Chief Minister Mr. Chandrababu Naidu and his party, Telugu Desam, which is threatening to break its alliance with Bharatiya Janata Party (BJP). Hence PM Modi compared the Congress way of establishing Telangana with the "smooth" creation of the state Chhattisgarh from MP, Jharkhand from Bihar and  Uttarakhand from UP by the NDA government just 10 years ago. You do not agree with Narendra Modi on this issue, but he was actually right within his rights to make this comparison to observe the contrast in between BJP and Congress.
During independence time Pandit Jawaharlal Nehru did a lot of mistakes which could be avoided easily if Sardar Patel were the first Prime Minister of India at that time.  Another big mistake was the formation of POK which Pandit Nehru unable to control. These are only a few. We can list a no of mistakes that he done—
Let us list down some mistakes—
In early 2048 During the Indo-Pak when India was gaining back the part of Kashmir captured by the invaders, Mr. Nehru prematurely went to the UNSC. This was really a great strategic mistake. Currently, India wants to keep a distance from 3rd party intervention in this type of dispute and the UN resolutions on this, but Nehru did it in the first place without any planning.
Pandit Nehru didn't have any practical approach to integrate Kashmir with India. Even he didn't allow Patel to deal with Kashmir issue. Sardar Vallabhbhai Patel was quite successful in these types of issues, especially in integrating other regions such as the province of Hyderabad Nizam's with India.
There was a big difference in between the thought process of Mahatma Gandhi, Sardar Patel, and Pandit Nehru. Sardar Patel was firmly capitalistic while Mahatma Gandhi wanted more rural development. But Nehru took India as a socialistic nation in the path of USSR. But Nehru's paths didn't beneficial for India. The paths of Gandhi and Patel could have been beneficial for our country. Pandit Nehru's lopsided projects – going for big industries and industrialists without any rural economic development, which means people were forced to move to cities without having the sufficient infrastructure. Hence cities were ruined with a higher density of population and villages were neglected. At that time we tried to jump to the industrial sector without solving the agricultural problem and paid a heavy price. Till 1991 Pandit Nehru's economic ideas failed and held the economy of India as a prisoner. But you cannot even imagine, the rest of Asia – South Korea, Singapore, Thailand, Japan, and China were waving past us in Capitalistic wagons since the early 70s or 80s. We were still in abject poverty riding Mr. Nehru's socialistic bullock cart.
And worst of Nehru's works were related to China war of 1962. He was totally unpragmatic. While Nehru's cronies have virtually silenced his failures in China war, the rest of the world made us into a mocking stock. As Nevile Maxwell put it:
What was weird?
In the speech of PM Modi, the weirdest thing was his absolutely uncalled for reference to the division of India in the same breath as he was talking about the division of 4 Indian states, and his comparison of the division of those states with the tragic partition of India in the year 1947. But everyone has observed that the context and the content which he shared in Lok Sabha comes naturally to him.
But a question arrives here, was the Congress solely absolutely responsible for the tragic division of India into two nations? If I asked to write books on the subject, a big library can be filled by those books completely. There are so many facts and findings which are directly and indirectly related to the partition of India. Do you know the fact that Congress was also against the partition? Yes. Even Mohammed Ali Jinnah was also against it but the communal Muslim League actually demanded initially a different Muslim state. They didn't mention the name Pakistan but they demanded. The Lahore Resolution of 1940 actually talked of 'Muslim states'. And the British policy also combined with Muslim League to create a situation that forced the Congress to accept the partition plan. But one thing to be mentioned here that few big political fishes were there who actually enjoyed the situation to secure their position in future.
Everyone can express their opinion. It's completely free the facts which were present at that time are really scared. But when the Prime Minister of a nation expresses his opinion and takes liberal liberties with facts? Which is in parliament, where speaking truthfully is a constitutional issue even for ordinary members? Here ultimately Prime Minister Modi brings disrepute to himself, to the high office he holds, and to the great institution of parliament.