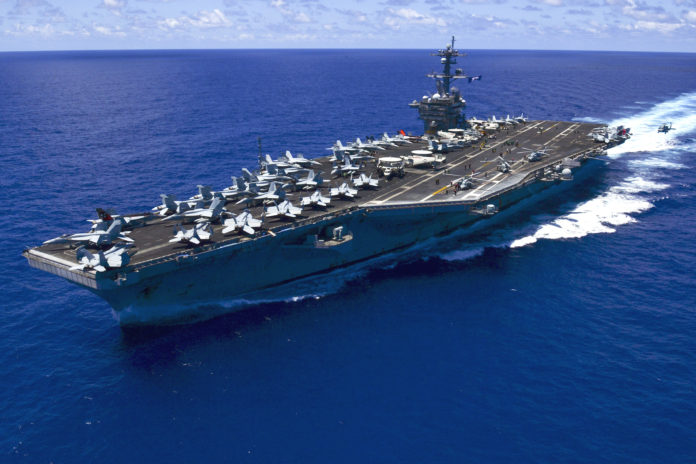 The United States and China have always had simmering tensions over territorial disputes in the South China Sea. The conflict, involving numerous countries such as The Philippines, Vietnam, and Brunei just went a notch higher with the deployment of the USS Carl Vinson. Vinson is an aircraft carrier, weighing about 97000 tons and accompanied by a guided-missile destroyer, USS Wayne E. Meyer. The U.S Navy stated that the deployment was part of normal maritime operations, though China and Chinese media think it is an affront to Chinese sovereignty.
The Vinson can carry at least 60 aircraft, among which are the deadly F/A-18 jet fighters. This deployment takes place in the background of growing conflict over trade and territory between the two Superpowers. The election of Donald Trump as 45th President of the United States led to a break in U.S foreign policy. 'The Pivot to Asia', an initiative pursued by Obama vigorously in his last term in office has all but stalled. In the first few weeks of his presidency, Trump upended the decades-long policy of the United States in supporting the 'One China' policy by receiving a call from the Taiwanese leader directly.
Thus, from the beginning, the Trump Administration has appeared to be set on a collision path with China. Secretary of State Rex Tillerson alluded to the fact that China should not be allowed to have access to the artificial islands that it has built in the South China Sea. This was during his confirmation hearing. Considering that reclaiming land from the sea is a costly endeavor and the potential loss of face the Asian giant would face, this sets the conditions for a major showdown with the United States.
China's Foreign Ministry has already responded to the deployment, with the Ministry spokesman Geng Shuang commenting, "China respects and upholds the freedom of navigation and overflight in the South China Sea, which countries enjoy under international law, but firmly opposes any country's attempt to undermine China's sovereignty and security in the name of the freedom of navigation and overflight."
There has been a long and bitter history of sea disputes between China and its neighbours. This is because China has laid a claim to almost all of the South China Sea. It has been active in creating artificial islands and installing military infrastructure in many of them. For instance, China has reclaimed about 3000 acres in the Spratly Islands since 2014. This is according to US intelligence reports.
Chinese media was up in arms over the deployment of the Vinson, with some news outlets claiming that the United States was deliberately stoking conflict and seeking to drive a wedge between China and its neighbours bordering the South China Sea. Li Jie, a naval expert in China, remarked, "This may trigger frictions or even military clashes between China and the US."
The U.S navy's statement that the deployment is part of standard maritime operations was strengthened by Rear Adm. James Kilby, commander of the Vinson. He remarked, "The training completed over the past few weeks has brought the team together and improved our effectiveness and readiness as a strike group. We are looking forward to demonstrating those capabilities while building upon existing strong relationships with our allies, partners, and friends in the Indo-Asia-Pacific region."