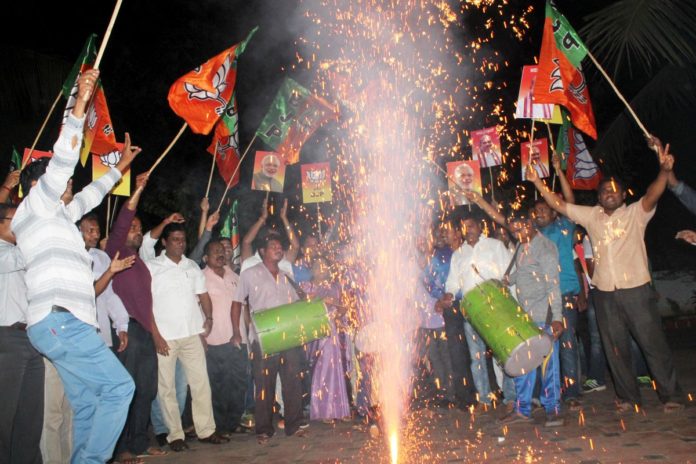 Communist Party of India (Marxist) has ruled the state for more than 25 years but ultimately this year the BJP has given a tough fight with the alliance with Indigenous Peoples Front of Tripura (IPFT) in the state. The Chief Minister Mr. Manik Sarkar has failed to get acceptance from the people of poor state Tripura.
Ultimately left front consisting of CPI (M) has been demolished from the country. Just a decade ago, in West Bengal also the scenario was almost same. CPI (M) had governed the state for more than 35 years and in 2011 Mamata Banerjee's TMC got a landslide victory with the alliance with National Congress.
Now in Tripura, the people of the state has proved that the 25-year-old anti-incumbency is also too much for the CPI (M). the Left Front actually put faith on Experienced leadership and they failed to put forward a younger leadership. Their faith was on the 69-year-old Manik Sarkar.
In this election, result counting has been started at 8 am in the morning and still, it is going on. Till 5 pm BJP is leading with 44 seats and the Left front with 15 seats only. Only a few hours are remaining and it is very clear that BJP is going to win the elections. The Bharatiya Janata Party (BJP) and its alliance with IPFT have ultimately demolished the last Left Front and secured a majority in the 60 member assembly in Tripura.
The main slogan of the BJP was "Chalo Paltai" means let's move for a change. Maybe that is the main reason behind their victory. Because all the people of the state were also in the same path to make some changes because since last 2 decades, Tripura has been one of the poorest states of the country and it was also famous for a very slow rate of development, lack of industrialization and corruption.
The CPI (M) leader cum Chief Minister Mr. ManiK Sarkar occupied the CM post in the state for 19 years. Despite being regarded as the cleanest personal record, he failed to save his party from the main route.  He is actually the poorest CM in our country. His net asset worth is Rs. 2.5 Lakhs only. Though it's not the question, how much he has earned and the total amount of his asset? It is the question of good governance and development. In his 19 years' ministry, nothing can be highlighted as his improvement project; he has done for the state.
Although the Manik Sarkar-led CPI (M) was very much confident that they will secure their path again but surprisingly public has proved that they want development in Tripura.
The BJp has attacked the Left Front on the theme of the highest unemployment in the state. The BJp also managed to fight against Left Front consists of CPI (M) with the help of campaign along with the green signal from Rashtriya Sayamsewak Sangh (RSS).