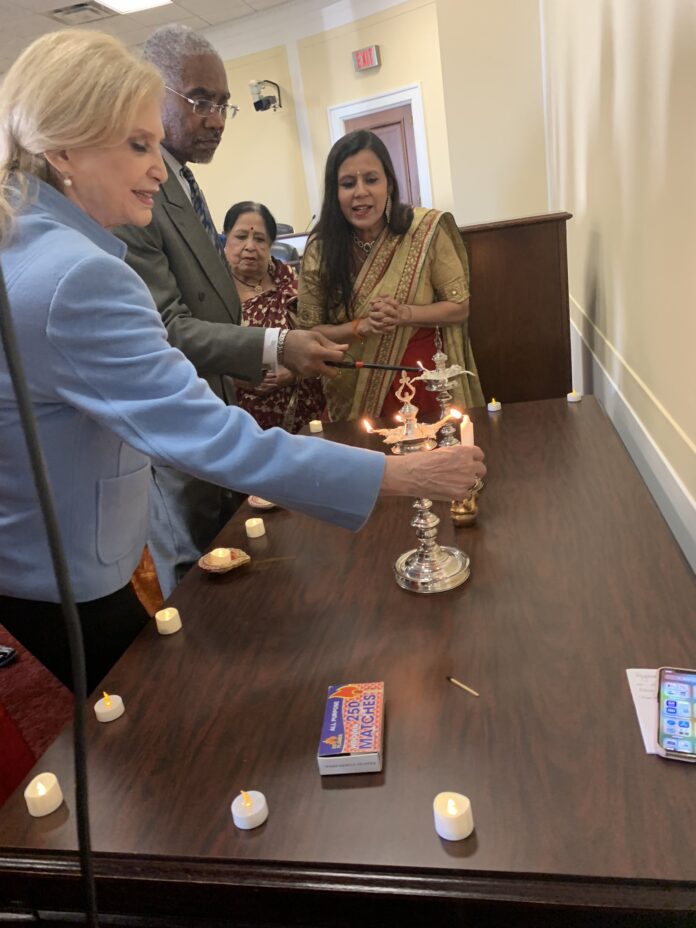 What a momentous 2021 Deepavali for all Indian Americans, particularly Hindu Americans, that a bill to declare Diwali as a federal holiday was introduced on November 3 on the House floor by Congresswoman Carolyn Maloney from New York. Her accompanying words with the "Deepavali Day Act, "I'm very, very happy and excited to be introducing the Deepavali Day Act this week alongside members of the Congressional Indian Caucus, which will enshrine Diwali into law as a federal holiday," made me feel immensely proud.
Maloney articulated Deepavali as a celebration for the victory of light over darkness, the triumph of good over evil, and the pursuit of knowledge over ignorance. She went on to add, "Celebrations like Diwali speak to the core of what we all desire for our nation to be a beacon of happiness, healing, learning, and light and uncertain times." Her narration of Deepavali is extraordinary.
Let us also acknowledge Indian American Congressman Krishnamoorti, from Illinois, who supported the bill with remarkable statements, " "On this holiday of Diwali, we should say, be the light you wish to see in the world. Be the light in your community that is needed to dispel the darkness. Be the light in this community that brings hope to the hopeless. Let us be the light that helps the last, the least, and the last." What a fabulous characterization of the Hindu festival and culture we fondly call Deepavali?
Personally, I am very pleased with the proposed Act as recognition for American Hindus excelling in all professional areas and walks of life. They represent the best of India culturally, socially, politically, economically, spiritually, and most of all as good friendly neighbors.
This 2021 Deepavali Act is a sign of shining and emerging new India because October was proclaimed as the Hindu Heritage Month in about one-half of the States and dozens of communities. What more can make us take pride in our ancient Sanatana Dharma and the glorious heritage, history, and culture of our homeland, India.
Together, let us rejoice, reclaim, and reassert that the world's largest and oldest democracies are natural allies more than ever before. Every Indian American must do her/his part to ensure that the U.S.-India friendship continues to grow both on a political and person-to-person level. Let us celebrate 2021 Deepavali with special pride and use the occasion as our "journey out of the darkness of COVID-19," in Maloney's words.