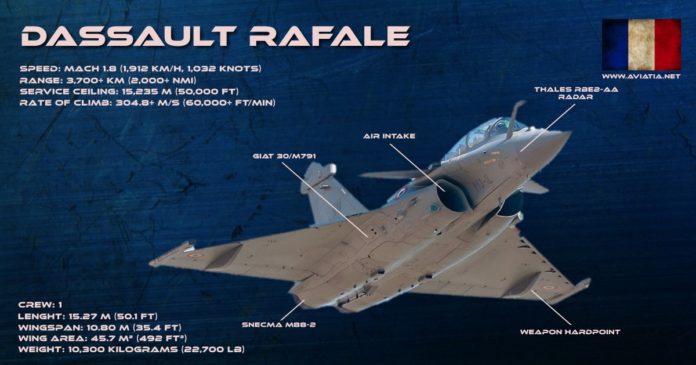 A few years ago a drive has been started by the Indian government to procure 126 fighter planes. The drive consisted eight-year global procurement process for 126 fighters. In this drive, PM Narendra Modi stunned the global military aerospace industry on 10th April 2015, in Paris, with the announcement that India is going to buy 36 Rafale fighters in a government-to-government arrangement with France in a "win-win partnership". But the problem is that recently this deal has come under attack from the Opposition parties, mainly the Congress, which has leveled allegations of irregularities.
As per the complaint of opposition party the manner in which Narendra Modi bypassed a number of relevant institutional mechanisms to announce the procurement of 36 Rafale fighters during the visit to France was totally wrong and that is why all of them have demanded the re-examination of the matter with greater focus.
There is the main point of controversy over how the deal was announced — by the Prime Minister Narendra Modi himself during a State visit to France — without clearances from his Cabinet ministry.
That announcement resulted in a (Rs 58,000 crore (€7.8 billion) contract for the thirty-six (36) Rafale fighters for Indian Airforce, signed last year in June 2016. It has become a question on of corruption and nepotism, levied by the National Congress Party against the BJP-led government. Congress party also alleges that BJP government has paid more than the negotiated amount to the Rafale maker Dassault.
Bharatiya Janata Party's riposte by Defense Minister Nirmala Sitharaman accuses the Congress of delaying the Rafale procurement process for ten years during 2004-2014 while heading the UPA government. Defense Minister Nirmala Sitharaman says Prime Minister Narendra Modi, worried about a precariously under-equipped Indian Air Force (IAF), boldly went ahead in the national interest of our country, following all procedures, to buy the Rafale fighters.
Background and Sequences:
A requirement was raised by the Indian Air Force to procure fighter jets and squadrons in early 2000. They required minimum 42 fighter squadrons to achieve optimal capability, but between 2000 to 2012 its actual strength declined to only 34 squadrons due to obsolescence.
Initially, a proposal was made by Atal Bihari Vajpayee's NDA government to procure 126 fighter aircraft. The Request for Proposal (RFP) for procurement deal of 126 MMRCA was .issued in 2007
Indian Air Force (IAF) then conducted technical evaluations and flight evaluations in 2011, declared that Rafale and Eurofighter Typhoon had met their actual criteria. Rafale fighter jet was declared L-1 bidder in 2012 and contract negotiations initiated with Dassault Aviation in that year but contract negotiations remained incomplete even after two years of initiation. Till 2014 it was incomplete due to a lack of agreement on various terms of the proposal (RFP) compliance and cost-related matters.
After that, since a long time, there was no deal under the UPA Government. Transfer of Technology remained the primary issue of concern between the 2 sides. Rafale maker Dassault Aviation was also not willing to take the responsibility of quality control of the production of around hundred no of aircraft in India. While Dassault Aviation provisioned for 3 crore man-hours for production of those aircraft in India, HAL's estimate was nearly 3 times higher than that, escalating costs manifold.
In, 2014, when Modi became the Prime Minister of India, he inherited the vacuum in Indian Air Force-IAF's fighter capabilities. And ultimately, during his official visit to France in 2015, he announced a government-to-government deal wherein the Government of India will acquire 36 Rafale fighter jets in fly-away condition as soon as possible. According to the joint statement issued at that time, these 2 countries agreed to conclude an Inter-Governmental Agreement for supplying of those aircraft on terms that will be better than conveyed by Rafale maker Dassault as part of a separate process underway; and the delivery will be in time-frame that will be compatible with the operational requirement of Indian Air Force (IAF). And that the aircraft, associated systems, and weapons will be delivered in the same sequence and configuration as had been tested and approved by IAF, and with a longer maintenance responsibility by France.
These proposals were presented its directions were incorporated to the Defence Acquisition Council on three occasions. The proposal then got a Cabinet Committee on Security-nod after which the IGA happened between India and France in last year, 2016
On costs, BJP government has insisted that it got significantly better terms and conditions than those terms actually quoted in the original bid under UPA, with a total reported saving of more than fifteen hundred million Euros. In this project, 350 million Euros was on the cost of aircraft with a further reported saving on weapons and maintenance and training package amounting to around 1300 million Euros (Rs 12,600 crores). However, a cost breakdown of Rafale fighter jets in the original bid under UPA and in the thirty-six (36) jets in the government-to-government deal under NDA are not in the public domain
But the main issue is that there was no agreement on the terms of Technology Transfer previously. In the offer, it was just Licence Manufacturing technology. Under this current agreement, the 36 Rafale fighter procurement proposal supports the 'Make In India' initiative of the Indian Modi Government through Clause 12 of the IGA. It states that the France Party will facilitate and help us for the implementation of 'Make In India' by the industrial supplier notably through offsets for 50 percent value of the supplied protocol. This Offset proposal also includes provisions for transfer of sophisticated and automation design technology which is meaningfully superior to the licensed manufacturing on offer in the earlier proposal of 126 MMRCA nonstarters. These design technologies are presently under discussion between the France and Indian government. The present IGA was signed purely between two governments and no private firm or individual was involved in the process from our side. And this procurement process also didn't involve any Indian private party
Discussions:
As per the statement of BJP government, Mr. Narendra Modi and Defense minister Nirmala Sitharam, they have followed all the procedure to finalize the procurement process but after giving a look at the events preceding Modi's visit to France by itself suggests a startling lack of transparency.
A few defense journalists also have pointed out that former defense minister Mr. Manohar Parrikar was informed about the matter but it was informed hurriedly only a few days before PM Modi's official France visit of the decision to acquire those 36 Rafale fighter jets, leaving him to publicly defend a decision with neither positive nor negative, hence he neither understood nor agreed with.
Consider the circumstances surrounding Narendra Modi's announcement to procure those aircrafts in fly-away condition from France. Just a day before Modi's visit, foreign secretary Mr. S. Jaishankar has quoted something technical words. He didn't mixed up technical decisions with political discussion. He also mentioned that our Hindustan Aeronautics Ltd (HAL) was also involved with this deal.
He said, "In terms of Rafale fighter jet, my understanding is that there are discussions underway between the French company and Indian government, but we should not mix the technical discussion with political discussion. Our Ministry of Defense and the Hindustan Aeronautics Ltd (HAL) is also involved in this project. These are actually ongoing discussions. Depth wise these are very much technical, detailed discussions. We should not mix up leadership level visits with deep details of ongoing defense deals and contracts. Those are on a different track. A leadership visit usually looks at big picture issues even in the defense field."
But here also BJP government is under attack. According to the oppositions, this picture actually shows that the foreign ministry's senior-most officer was also not aware of the impending announcement. But he ought to have a clear idea of the prime minister's itinerary in a foreign country. Actually the official stand still appeared to be a continuation of the Rafale deal that the previous UPA-II government had laid down – for a larger purchase of 126 aircraft from the French company that involved the government-owned HAL as the Indian manufacturing partner.
Recently the Indian Air Force (IAF) has placed an order for around 80 Tejas light combat aircraft with the Hindustan Aeronautics -HAL. The contract will be worth over Rs 50,000 crore and it will be inked at a later stage". Initially they also placed a order of 20 Tejas flight. May be after few years it will also be a part of controversy around defense projects. TheTejas aircraft are an improved version of the single-engine fighter of Mark-1 configuration, being inducted into the IAF. On Wednesday IAF kicked off the process to order those 83 indigenous Tejas aircraft by issuing a request for proposal (RFP) to defense PSU HAL. The defense sources said, "HAL has to submit its final proposal by next year in March 2018.
Mr. S Jaishankar's statement also shows that until 8th April, 2015, Hindustan Aeronautics Company HAL was officially still very much a part of the deal. It will appear that the government had not turned its back on negotiations that were based on the outcome and terms and conditions of the original RFP (Request for Proposal).
There is other evidence to suggest that even VEO of Rafale maker Dassault and the chairman Eric Trappier may not have been aware of Prime Minister Modi's decision to cut the size of the deal to 36 fighter jets, exclude HAL and remove the crucial transfer of technology clauses.
On that time a France new report (An Agence France-Presse report) published news on 27th March. 2015 that Mr. Trappier is saying that the work on completing an Indian contract for the Rafale fighter jet is taking time, but the old deal to purchase 126 Rafale fighters is now "95% completed.
The another news on 25th March, 2015, just two weeks before PM Modi's France visit and the reduced order announcement also stunned everyone. There is a video available in public domain, published by Rafale maker Dassault on 25th March, 2015. In the video, Mr. Trappier says that Dassault has a long-standing relationship with Hindustan Aeronautics Ltd (HAL) and that will be more strengthened once the order for 126 Rafale fighters is concluded and that he is looking forward to that. The video was shot on the occasion of the handing over of 2 upgraded Mirage-2000s to Indian Airforce (IAF) by Dassault in the presence of senior IAF officials and Indian ambassador to France. He proudly states that Dassault is very much happy to abide by all the conditions of the Request for Proposal (RFP).
He said, "Considering our conformity with the Request for Proposal, in order to be in line with the rules and regulations of this competition, I strongly believe that the contract finalization and signature could come very soon".
Beyond political mud-slinging, four major questions arise.
The First question was that- did PM  Modi followed due procedure in announcing, alongside then French president François Hollande, that France will supply 36 Rafales fighter jets Or was this Narendra Modi's decision alone?
Second question is that- rather than serving the procurement deal on a platter to a single vendor to French firm Dassault Aviation, could the PM have brought in another vendor in the dealing process, which could create a competitive environment for price discovery and cost negotiation?
Third question is that- was the UPA guilty of a full decade of foot-dragging from 2004 and 2014 on the eventually-aborted procurement process of 126 medium multi-role combat aircraft, which actually leads to such a fighter shortage in the Indian Air Force (IAF) that an emergency purchase of 36 Rafale fighter jets became essential?
Fourth question is that- does the cost of those fighters in the contract work out lower than what France had offered in its MMRCA bid. Which was a key condition of the purchase?