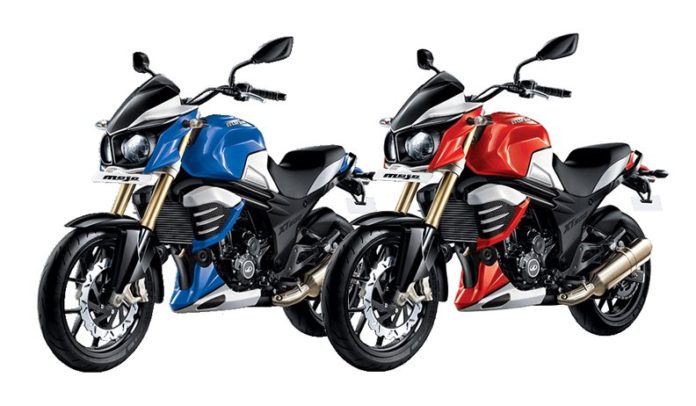 In 2015, original Mojo model of bike was launched and this time a new version "Mahindra Mojo UT 300" has been launched after adding some new features. It actually gets stripped off some new features to make it more affordable than the previous 'Mojo' model.
Finally, Mahindra has launched this two-wheeler at a price of Rs. 1.5 lakh. This has been launched with the name Mojo UT 300 and the previous mojo model has been renamed as Mojo XT 300 or Xtreme Tourer 300. The original 'Mojo'  was about the low-cost variant of the Mojo for a while now, and Mahindra Two Wheelers has finally launched the new Mojo UT 300 priced with some extra features and at an affordable price.  Initially, Mahindra is offering a scheme of Rs. 10,000 rupees introductory benefit on the new model "Mojo UT 300", which will be valid until March 2018.
The CEO of two business of Mahindra, Mr. Prakash Wakankar said that they have always believed in innovation and they always have provided their consumers with an exciting value proposition. He also mentioned, on the launch of Mojo UT 300, that this exciting product they are offering for the new age bikers who are very much enthusiastic. He also added that, with the launch of this exciting product, the model will be available in more than sixty cities in our country.
Mahindra Two Wheelers Ltd. is actually a group venture owned by Mahindra &Mahindra, which manufactures scooters and motorbikes. The two Wheeler business of Mahindra and Mahindra was founded in 2008 when it acquired the business assets of Kinetic Motor Company Ltd.
The undercarriage unit of the UT 300 Mojo model is similar to XT 300 model but it has some extra features. This is a 295 cc liquid-cooled, four valve and single-cylinder engine which almost same in the XT 300 model also. The only difference they have added is- a carburetor fuel system instead of fuel injection system. And another one feature they have added is- power output system. There is a significant drop in the UT 300 with the motor churning out 23 bhp and the peak torque of 25.2 Nm. In the XT model the peak torque is 30Nm and FI is 27 bhp. The engine of the UT 300 model is paired with a six-speed gearbox. The other salient features are- two disc brake, 320 mm petal front and a 240 mm unit at the rear, 17-inch tubeless tires from MRF and a gas charged mono-shock rear suspension. Another change in the front they have added is- telescopic forks at the front end instead of a USD setup.
The new model, UT 300 gets MRF tires, instead of the existing Pirellis available on the old XT model. But overall aesthetically, the bike remains identical to the old XT 300 model. The price difference in between these two models is Rs. 20,000. But another thing that consumer can miss, that is ABS system. It is still a miss on both models.