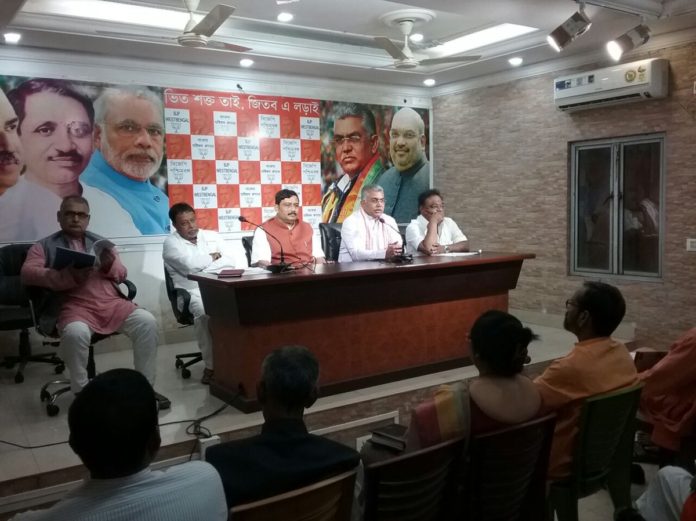 After the landslide victory of Bharatiya Janata Party in Tripura, West Bengal Chief Minister Mamata Banerjee has blamed the failure of Congress and the surrender of CPI (M) for BJP's victory in the state. But following her comment, West Bengal state BJP chief Mr. Dilip Ghosh yesterday said that Trinamool Congress has suffered the most because she has observed the red indication for the TMC also. Dilip Ghosh also added that they will wipe out TMC in West Bengal, just like it has wiped out CPM in Tripura.  Bharatiya Janata Party has ended the 25 years' rule of CPM in Tripura.
According to Mr. Dilip Ghosh, if BJP can do it over the 19 years' government by Manik Sarkar and 25 years' rule by CPM, then it is also possible over the 10 years' government in West Bengal
On Saturday, Bharatiya Janata Party ended the 25-year-rule of CPM in the northeastern state, Tripura in a landslide victory in the state Assembly elections. Following the declaration of the results, Trinamool Chief Mamata Banerjee blamed the Congress's "failure" and CPM's "surrender" for Bharatiya Janata Party's win in the state. After that, reacting to Banerjee's remarks, Mr. Dilip said, "We are seeing that Trinamool is shedding CPI (M) tears but it should be opposite. CPI (M) has lost the election. Hence CPM should shed tears". According to him, after BJP's victory in Tripura, 'Didi' Mamata has suffered the most. Really this is very strange.
Mr. Dilip Ghosh also mentioned that Didi's TMC party wanted CPM to win in Tripura to give a tough fight against the BJP because now TMC's main opposition is BJP, not the CPM. That is why she desperately wanted Left Front to win in the state so that West Bengal's Trinamool Congress and CPM could get some oxygen from there.
Whatever may be the reason, PM Modi's 'Jjhadu' (broom) has wiped both Left Front and Congress out from there and also trying to wipe out from the country.  Now the BJP is actually shifting its focus to West Bengal for the next election in 2021. The state BJP president Dilip Ghosh said that the BJP will wipe out Trinamool Congress from Bengal just like it wiped out CPM from Tripura.
After the Tripura result, a growing cry within the CPM party in West Bengal CPM has been spurred to rethink its draft political resolution and forge an alliance with other local or national parties. On the other hand, the CPM is thinking to ally with Congress to defeat BJP and TMC in the state.  They are thinking to established a definite approach and a strategic way to make a place in the upcoming state elections.
A senior CPM leader said that they cannot defeat BJP alone that's why they need an alliance with other parties, especially Congress. According to him, now the time has come to make the definite approach and it is the need to enter into an alliance with the Congress in a bid to survive in politics.