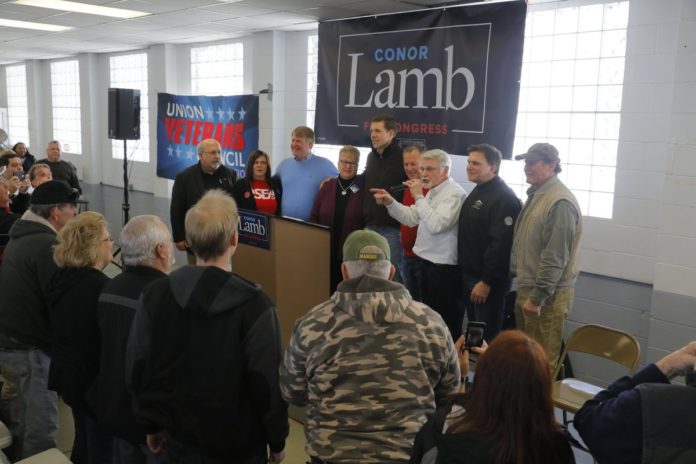 Conor Lamb, the Democratic candidate for the upcoming 2018 Pennsylvania congressional elections was in Pennsylvania on Sunday to speak with potential voters. He is running against Rick Saccone the Republican candidate. Conor visited the state in the final days before the elections to speak to the coal-state residents. Pennsylvania is a Republican state given that Trump took a lead in the state during his presidential elections in 2016. The congressional election is vital as it will mark as a benchmark for both parties especially the Republicans who would wish to weigh their prowess before the November midterms.
Conor's race against his Republican rival is described to have crystallized the argument of whether a younger and charismatic Democrat candidate would win back what was traditionally a Democrat state. Speculation is high on whether the Democrat candidate could win a veteran Republican candidate who is counting on party loyalty to propel him to success. Trump has visited the state twice with his latest visit being on Saturday.
Lamb's Rally in Pennsylvania
Lamb came to the venue wearing jeans, a fleece top and muddy work boots. He was at a packed cinderblock building at the fairgrounds in Waynesburg. He told over 300 retired coal miners that keeping promises to fund some vital programs is extremely important. He explained that people pay into those programs over the course of their lifetime. He made the remarks to discredit promises that Republicans had not kept. Such promises include funding labor union pensions, Social Security and Medicare among others.
Lamp told the crowd that they have been the heart and soul of his campaign and thanked them for it. He explained that his volunteers were literally running into representatives from the labor unions and have proceeded to help his campaign.
The congressional polls are to take place on Tuesday and the poll probabilities suggest that the race between the two candidates could be at a tie. The study implied that the remaining day (Monday) could make the difference between the two contenders. The seat was left vacant after Republican Representative Tim Murphy resigned amid sexual harassment allegations.
Attributes of Both Candidates
Political analysts in Pennsylvania claimed that unlike Tim Murphy, Saccone did not have the support of labor unions. Saccone is fully backed by Republican machinery with his adverts still blanketing TV screens. Republicans have to spend a lot of resources in the region in order to harness votes or else they would lose to the Democrats.
On the other hand, Lamb is a 33-year-old Marine veteran who now has the support of labor unions. His stakes for winning the seat could be based on the fact that the State is formerly a Democrat state.