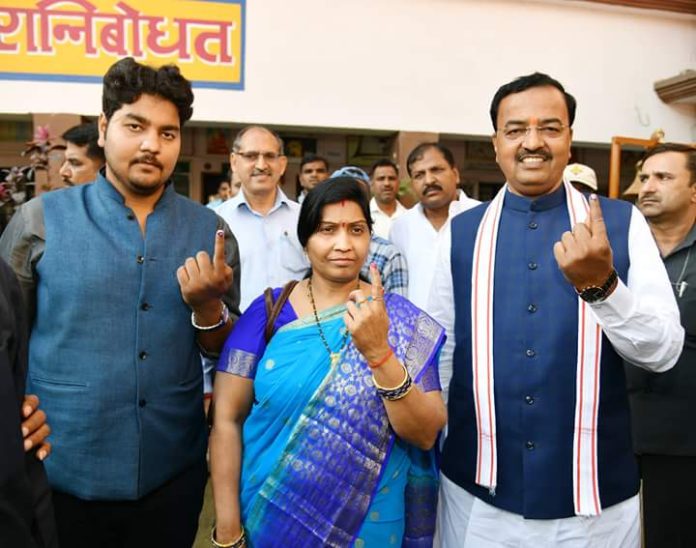 Uttar Pradesh Deputy Chief Minister Keshav Prasad Maurya said that he is confident about victory in the Lok Sabha bypolls in the State. He said that the 2014 Lok Sabha record will be broken by his party this time and they will sweep the elections with a clear majority. When he was asked about the ongoing electoral understanding between the two rival parties- BSP and SP, he said that his party has expanded enough and if any party wants to join then it will be deliberated upon by the propel panel in a proper meeting.
Explaining the political equation in the state, he said that Bhartiya Janta Party is in alliance with Suheldev Bhartiya Samaj Party (SBSP) and Apna Dal (Sonelal) and they are not in alliance with any other party. Exuding confidence, he said that the alliance is in a strong position and with the support of common people they will aim to win 80 out of 80 seats in the state. He also took a jibe at the rival alliance saying that SP-BSP votes will only transfer when they have enough votes and he said that the common people supported the leadership of Prime Minister Narendra Modi and Bhartiya Janta Party. He said that rival alliance has leaders who only make statements but the real development is done by BJP. People have deserted leaders like Mayavati and they have supported Yogi Adityanath and Narendra Modi. He was sure that the party will win both the Lok Sabha seats and that too with a wide margin.
Supporting his candidate Kaushalendra Patel, he said that the record which was made in Phulpur in 2014 Lok Sabha elections will be repeated n the result day, March 14. He spent a few moments talking with media after he exercised his franchise along with his family members for the Phulpur parliamentary constituency. The voting for two seats from Phulpur and Gorakhpur ended peacefully on Sunday and amid a tightened security.
The by-poll election became necessary after Chief Minister and Deputy Chief Minister vacated their respective seats from Gorakhpur and Phulpur after the commencement of the Uttar Pradesh Legislative Council. This election was widely termed as a rehearsal for the parties in the state before the coming Lok Sabha election 2019. There has been a triangular contest in the state of Congress, BJP and Samajwadi Party.
Samajwadi Party had fielded Pravin Nishad from Phulpur and Nagendra Pratap Singh from Gorakhpur against the Bhartiya Janta Party candidates Kaushalendra Singh Patel and Upendra Dutt Shukla respectively. The third major party Congress fielded Manish Mishra from Phulpur and Sureetha Kareem from Gorakhpur against BJP and SP.
In the by-poll election which results will come on 14 March, 22 candidates have contested from the Phulpur seat and 10 candidates from Gorakhpur. According to the statistics by the election commission, polling percentage of 5.8 percent was reported from the state till 9.00 am; this includes 6.8 percent polling in Gorakhpur and 4.8 percent polling in Phulpur.