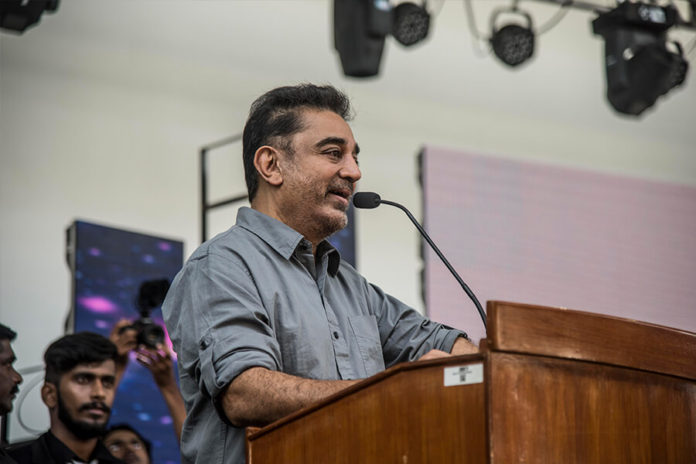 Today Kamal Haasan, an actor turned into politician declared that he is open to aligning with other parties. He alleged that the defacing of Dravidian icon Periyar's statue in his state was done to divert attention from pressing big issues like Cauvery water sharing issue with Karnataka. In an interview, he said that he has joined politics to challenge and change the typical politics of crass and mediocre in Tamil Nadu.
Just a few days ago he floated his own party Makkal Needhi Maiam (MNM)- putting to rest all speculations about his sudden entry into the murky world of Indian politics. Mr. Kamal Haasan also denied that he is anti-BJP. He actually doesn't like the extremism which brings people hardship. He said in the interview- "I am actually not anti-BJP; I am anti-everything that goes wrong for the mankind of people. As for extremism, here Hindu extremism exists, read the Tamil papers".
He also took an example of extremism by political party. He has talked about the vandalism of Periyar's statue in Vellore city. He said that it was actually an act of extremism. According to him, it is also a diversionary tactic to take people's attention away from more relevant issues such as Cauvery water sharing issue.
In the interview, he was asked that why he has started a new party. He could have strengthened an existing, established outfit with an army of cadres. Against the question, Haasan replied that it is done in his characteristic poetic manner. He took a simple example. "What will you do if you are hungry and the available food is rotten food?" he asked. According to him, there was no other option but to launch a new party in his state.
He mentioned that "I am challenging the status quo. Mediocrity is set as the standard…rubbish becomes acceptable. Always this has been the state of Tamil Nadu state politics for since last few decades".  But interestingly Haasan does not rule out the possibility of aligning with other parties in future. He also added that his decision to join politics was not taken overnight but he had been a politician for more than 30 years now.
According to him, he thought electoral politics was not for him. Things have totally changed now. He also said that his philosophy is based on his learning from Mahatma Gandhi, Ambedkar, and Periyar. he mentioned that he has learned Dialogue from Gandhiji and the anger against caste from BR Ambedkar and Periyar.
Maybe, the people are not accepting his philosophy, and he is not able enlarging his political. That's why his mentality has been changed a little. Initially, he was against all the political party but now he is willing to shake hands with someone. He declared that he is open in the future to align with other parties. This is not the end, this is just the starting phase. In this starting phase, already he has changed his voice. Then what will he do in the future?