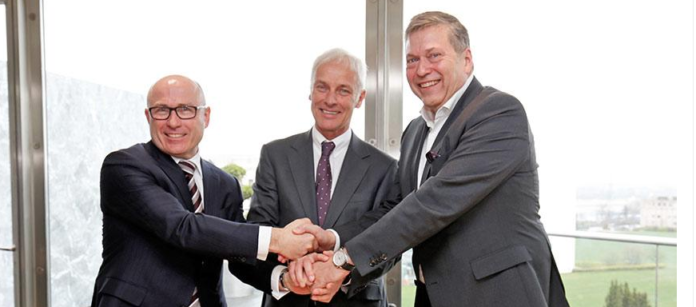 India's Tata Motors will form a long-term partnership with Volkswagen and Skoda Group to explore the strategic opportunity for joint development of products and technologies. The agreement and Memorandum of Understanding (MoU) have been signed by CEO & MD of Tata Motors Guenter Butscheck, CEO of Volkswagen Group Mathias Muller and CEO of Skoda Auto Bernhard Maier. They strongly believe that by working together, they can leverage each other's strengths to create synergies and develop innovative solutions for the Indian and overseas market.
The memorandum lays down the objectives in order to reach agreement on the terms of a long-term cooperation in identified areas of partnership. Mainly Skoda Auto will take the lead on behalf of the Volkswagen. Skoda will take the lead to drive forward work towards the development and innovative solutions of vehicle concepts in the economy segment.
Announcing this strategic alliance opportunity, CEO and Managing Director of Tata Motors Guenter Butschek said, "We are pleased to announce our potential long-term cooperation with Volkswagen Group and Skoda. We believe that by working together, both the companies can drive fast in the economic market and can leverage their strengths to develop smart innovative ideas. This has become successful and we are on the same only through Tata Motors' efforts to make itself 'FutuReady' by implementing new technologies and higher efficiency that can connect with our customers' aspirations".
Based on their strategic alliance, Tata Motors is planning to launch their joint products in the Indian market starting calendar year 2019. The announcement came after struggling so much to arrest falling market share for all these three companies. Tata Motors' vehicles division posted 96% drop in profit in its third quarter, and its market share has dropped to below 5% in 2017, from 13% in 2013. TATA's Tiago sells around 3000 to 4,000 units monthly, but no any other product launched over the past 3 years. Tata Hexa is also too nascent to give success in business.
On the other hand, Volkswagen has a lot to clean up since September 2015 cheating scandal about the smoke emissions above the permissible limit. More than 11 million vehicles of brands such as VW, Audi, Skoda and Porsche were caught in 2015, emitting smoke 40 times higher than the permissible limit. Volkswagen's India portfolio starts from Rs 5.45 lakh Sedan Ameo to a premium luxury mini-car Beetle of Rs 30 lakh onwards. However, the German automaker has sold fewer than 4,000 products in last Month of 2017, capturing just 1.6% of the market share.
Czech automaker Skoda India has also recently launched their models like the Superb and Octavia and plans to bring its SUV Kodiaq to India. But they also need a stronger footing in India to increase its share in the market. Currently, its share in the market is below 0.5%.
"Together with Tata Group, we will be able to specify the concrete opportunities for collaboration and we will be able to diversify our smart innovative ideas over the coming months"- said CEO of Skoda, Bernhard Maier.
Mr. Muller, CEO of Volkswagen said, "We want to make a bigger platform which will enable us to offer our innovative and customer-oriented products and to lay the foundations in the Group".