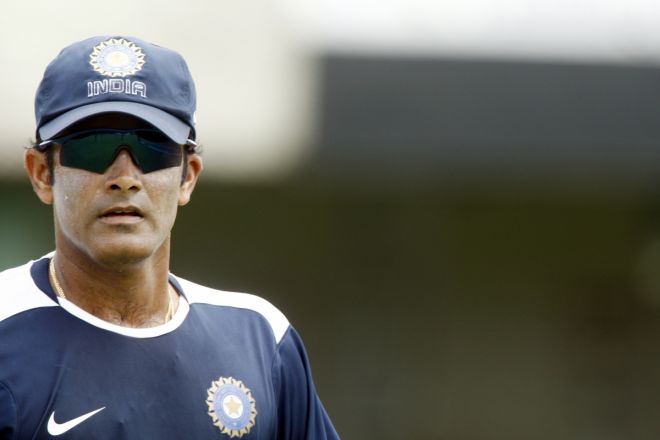 The Board of Control for Cricket in India (BCCI) is looking for a new coach for Virat Kohli's team India. The BCCI's decision is acceptable as Anil Kumble's tenure as the head coach of team India will come to an end following the end of the Champions Trophy (CT) 2017 on June 18. Anil Kumble will not get any extension and the BCCI board has started the process by inviting applications for the hot-seat. The seat will be vacant after India's campaign in England for the CT 2017. But it is obvious that Anil Kumble will be considered for the position again as a 'direct entry' for the process.
Most successful coaches of any team around the world get extensions after good stints with their national team, but interestingly Anil Kumble has not got any extension. Actually, he had a terrific time with the Indian cricket team. During his tenure In 17 Tests, India won a dozen, drawing four and losing just one against Australia. India retained their No. 1 position in Test ranking.
The Cricket Advisory Committee of BCCI board comprises of 3 members. They are Sachin Tendulkar, Sourav Ganguly and VVS Laxman will select the coach.  That means Anil Kumble's luck is in the hand of those former cricketers.
According to the official "Kumble was a great player who represented India with aplomb, but his bent of mind is financially motivated. Even though his stature as a player is unquestionable but the same doesn't apply to his personal nature". They also said that Kumble's presentation on the proposed hike for players was a lopsided one, which will only lead to more disparity in pay. According to his presentation, if some of the players are given the amount of money that he expected, then 2 to 3 players will get what a state association gets and that is not acceptable.
At that time, he was at the forefront of demanding pay hikes for Indian cricketers. He has a style of functioning which is very union-like in approach. A decade back in 2002 also, he was at the forefront of drafting player contracts.
That aside, in his meetings with the Committee of Administrator (CoA), Mr. Kumble had made further demands of a better pay packet for cricketers who don't play in the Premier League. He also demanded pay hike for the national coach and captain; place for the coach in the selection committee.
Anil Kumble wanted the coach's pay package to be hiked from Rs 6.5 crore to Rs 7.5 crore, and should he also sit on the national selection committee, that will mean earning an added fee of sixty lakh rupees in a year. It is obvious that, whatever demands Anil Kumble made, the cricketers have certainly not had any problems with the coach.